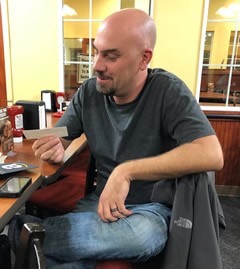 At our December meeting, Mike Kionka, KI0GO, was named the Chief Technical Officer, a new position in the Rocky Mountain Radio League club.
Mike's interest in radio communications was piqued as a teen when he started out playing with scanners and CB radio.
He went on to get his ham license in 1995 with the call sign KB0UCA. Mike then upgraded to Advanced around 1997 and got the call sign KI0GO. Although he upgraded to Extra around 1999 (after they eliminated the 20 wpm Morse code requirement), he kept the KI0GO callsign.
Mike graduated from the University of Colorado, Boulder, in 2001 with a degree in electrical engineering. When he's not helping out the RMRL, Mike works as a professional electronics engineer on radio and microwave communications systems.
In the summer he keeps busy with motorcycle road racing (http://mra-racing.org) on his Kawasaki Ninja 250. In the winter, he enjoys snowmobiling.
Mike has done a phenomenal job for the club, going to great lengths to get to and repair our repeaters and in bringing up our new DMR equipment. The next time you hear him on the air, be sure to join us in saying, "Thank you, Mike!"