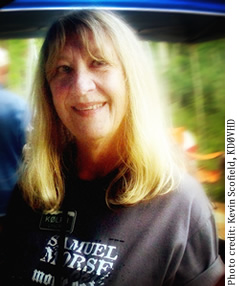 I double dog dare you!
Okay, no one actually spoke those words, but when a friend left Stu Turner's Technician License Course book on her coffee table in 2013, a recently retired Lynaire took it as a challenge. Originally setting out to impress her friend, she soon found herself intrigued and interested in amateur radio communications. In pursuit of her newly discovered fascination with the hobby, she breezed through obtaining her Technician, General, and Extra class operator licenses within three months. She was fired up! But she didn't actually own any equipment … yet.
"Strange as it may seem, the furthest thing from my mind was to actually operate any type of radio communications equipment. I didn't own any at the time and that aspect of the world of radio still seemed foreign to me, and a little intimidating."
Her 'mic fright' didn't last long, and Lynaire now owns two Yaesu FT-897Ds (one for each home), a Yaesu FT-2900, two Yaesu FT-60s, and a couple other HT's. Antennas include a 10 – 40m fan dipole, a 10 – 80m OCFD (Off Center Fed Dipole), a Diamond X50, and a Diamond X300. Whether she is at her home in Colorado or Kansas, Lynaire is ready to make contact.
You never forget your first … HF contact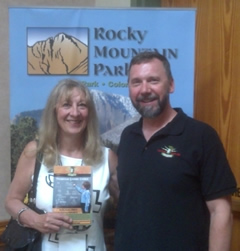 After purchasing her first radio, a Yaesu FT-897D, Lynaire started attending in-person radio club meetings. Lynaire went on to join several radio clubs in the Front Range area, including the Rocky Mountain Radio League. "I truly believe that it is important to become a member of local clubs, as your membership will support continued maintenance and viability of existing systems and hardware structure, and will foster the influx of new technology. This is without a doubt, extremely important to all of us as we move forward in our hobby."
She also found listening a great way to learn and add to her store of knowledge. "I checked in weekly to nets trying to grasp a better understanding of the many, many facets of the amateur radio realm. It is so true that you can obtain a large degree of understanding by listening," she said, "not just to other operators bantering about their experiences and procedures, but to net traffic as well. I believe this is important for any new ham."
"I was literally terrified to get on the air, though I listened a lot," Lynaire said, "In my case it was difficult and intimidating to overcome my initial 'mic fright,' but the thought of what was out there on the other end was motivation enough. Now, a day rarely goes by that I have not learned at least one new thing about the hobby, simply by virtue of operating my radio station. I realize that one should never be discouraged or reluctant to admitting to being new to the hobby, and freely take advantage of the most gracious, helpful and encouraging community of people anywhere – ham radio operators."
Lynaire really enjoys attending hamfests and swap meets. Stu Turner (author of the Technician licensing study book that she used) and Gordon West (author of the General and Extra licensing study books she used) rank high among the many interesting people she has met at HamCons.
It was while attending HamCon 2013 at Estes Park, CO, that marked the big milestone of her first HF contact – California.
In pursuit of … accomplishments
Not satisfied with a few casual HF contacts, Lynaire went on to pursue HF the same way she approached her licensing: comprehensively and with enthusiasm.
"Thanks to my friends far and wide, I have overcome my own personal radio fears, and have been able to achieve a Worked All States (WAS) Mixed award as well as a WAS Phone award. I'm currently working on my Worked 100 Countries (DXCC) award and WAS awards on various HF bands."
"I also enjoy exchanging QSL cards. It's gratifying; a tangible memento of working other states as well as foreign countries."
Giving Back
Many Elmers stress the "giving back" part of the hobby; a lesson Lynaire has learned as well. "An important highlight in my life now is having the ability to share my experiences and to help guide new hams into the hobby — giving me the opportunity to give back to the community that so generously led me to this point."
What's next?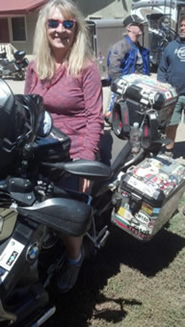 Lynaire's other interests and activities include lodging at Colorado's historical hotels and B&B's, bicycling in nearby Cherry Creek State Park, and riding one of her five motorcycles. As her interest in motorcycling diminishes, she finds herself with more time for ham radio.
"Now my interest seems to be gravitating towards achieving a good understanding of CW. My passion is stoked to learn more and meet others in this shared experience. We casually refer to this as a hobby but for some of us, like any challenge in life, it becomes much more significant."
"This hobby is indeed a unique realm of communication, challenging at times but always rewarding for the effort. I am very grateful to all the Elmers and mentors who have helped me along the way. I have made many friends and will always have someone to talk to, whether in person or on the air. Mic fright? Not tonight!"
Get on the air with Lynaire, K0LPR!