Our president, Glenn, WNØEHE, will be stepping down when his term expires on December 31 of this year.  After living in the Denver area for many years he decided to move to southern Arizona and bake his bones in the sun.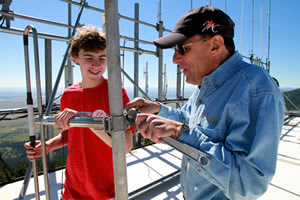 It's hard to think of a person who has had a larger impact on the RMRL's success.  Glenn tells how he received a call from Warren, NØFVG in 1985 asking him to go to Squaw Mountain and help with the 146.94 MHz repeater – just once.  That one-time trip turned into more than 30 years of service to the RMRL.  In addition to filling the elected office of president, Glenn acted as head of the club's technical committee and was a repeater trustee for many years.  He was the designer and chief builder of our repeater systems and always willing to take time out of his personal schedule to make trips to the sites and fix problems so the repeaters were available for the rest of us.  Wow!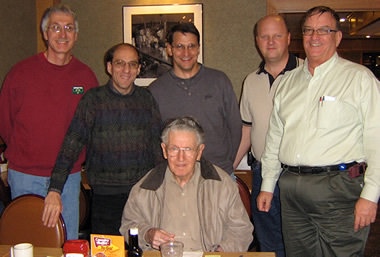 Glenn says one of the most difficult parts of his decision to relocate was leaving the RMRL and all of the people who have made it such a great organization.  He indicates he'll also miss working on the innovative projects undertaken by the club over the years, including repeater rebuilds, the amateur paging project, WWVB set-time project, autopatch call logger, and modifications to the S-COMM 7K repeater controllers to make new speech synthesizer words tailored just for RMRL use.
It's no surprise that Glenn has had experiences over the years leading to amusing "war stories".  One of the better ones involved an emergency trip to repair repeaters in the middle of winter, which didn't seem like much fun at the time. He and Ed, NØMHU, snowshoed up Squaw Mountain carrying test equipment and a new power supply.  Glenn remembers remarking "It's a good thing that this is our hobby because nobody could pay us enough to do this!".
We will certainly miss Glenn and his leadership but wish him the best in the next phase of his life in Arizona!