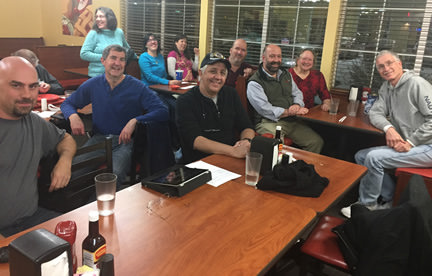 Update:  A small, but friendly, group braved the frigid temperatures for an evening of fun and camaraderie.  Business was conducted, including a "state of the club" address by Dunnigan, K1DUN. New and old officers were voted in as follows: President: Dunnigan, K1DUN, Vice President/Secretary: Becky, KD0AOE, and Treasurer: Joe, WT0C. A big thanks to Joe and our Membership Chairman, Mike, KA6YFB, for their long-running and continued service to the club. We'd be lost without them! Glenn, WN0EHE, our president for over 20 years, will be sorely missed, but we thank Dunnigan for stepping up to take on the mantle of leadership. Glenn was voted President Emeritus.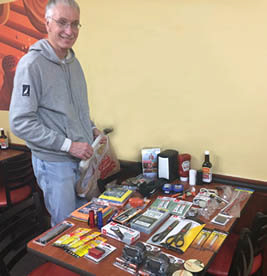 After club business was conducted, "Santa" Joe (WT0C) made sure everyone, including club members and guests, received a little something for their stockings.  It is a long-standing tradition of the Holiday dinner, enjoyed by all.
Thanks to all who attended, we will see you next year!
—-
The annual RMRL holiday dinner will be held Wednesday, December 7, 2016 from 6:00 PM to 9:00 PM. The location is the Golden Corral buffet restaurant, 3677 S. Santa Fe Drive in Sheridan (west side of Santa Fe immediately south of Hampden). (Note:  The buffet restaurant where we met for many years has closed.  The Golden Corral is nearby.)
When you arrive at the restaurant, pay for your party individually and tell the cashier you are with the RMRL group. The cost is $11.99 + tax adults, $10.99 + tax seniors (60+) for all-you-can-eat buffet. Drinks are extra, $2.39 + tax.
We look forward to seeing everyone there!