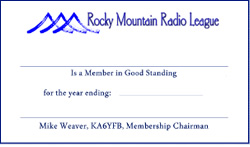 Win a FREE membership to the Rocky Mountain Radio League!
How? Simply check in to every RMRL Monday night net between January 27th and June 16th, 2020. A couple of nice people bought three (3) RMRL memberships to give away, so you have an excellent chance of winning.
Make that five (5) memberships! Another generous member has stepped forward to contribute two more memberships to the great giveaway!
If you have an otherwise perfect record but miss a check-in because your hamster set your hair on fire and you have to go to the ER that night, proper consideration will be given to your circumstances. (Doctor's note required.)
Seriously, you can keep your free membership or gift it to someone else, so it's worth your while to check-in every week! The membership will be tacked onto your existing membership, so you won't forfeit any time you have already paid for.
Winners will be announced June 29th.
YOU could be the next lucky winner!