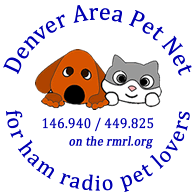 Update: Name change to the Pet Net.
We are happy to announce a brand new net on the RMRL!
Name: Denver Area Pet Net
Day: Thursdays
Time: 7 p.m. (otherwise known as 1900).
Frequency: The 146.94 linked with the 449.825, both with a negative offset and a CTCSS of 103.5 Hz.
Description: For all pet lovers, whether you have a dog, cat, snake, or ?? Share tips, experiences, help provide support, and swap stories. Have fun connecting with other pet parents.
Co-hosts: Brian, K9ATK and Becky, KD0AOE.
Facebook page: Denver Pet Net RMRL 146.940/449.825
The 146.94 is high atop Squaw Mountain, it doesn't get much better than that for coverage.
The Rocky Mountain Radio League is excited about hosting this new net, we think it will be very enjoyable for all pet lovers!  We welcome nets on the RMRL and are happy to talk to you about your idea today.  Just use the Contact Us form and let us know what's on your mind.