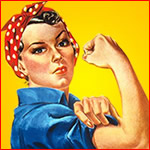 Note: The YL Family Net is moving from Saturday mornings to Friday evenings at 7:30 p.m., effective immediately.  End your work-week with a nice, relaxing family activity. Gather the family around and join in – third party check-ins are welcomed and encouraged.
It's been a while since a YL Net was heard on Denver area repeaters, so we were pleased when member Trish, K9FOG, approached us about reconstituting the Net. With a twist.
Trish feels that a net encouraging the "Young Ladies" (YLs) of the hobby to actively participate in the repeater community is important. "A lot of women are licensed, but you don't hear many of them on the repeaters. I would like a net that will encourage women of all ages to participate in the hobby."
As a busy mom who works outside the home full-time, Trish felt strongly enough about getting other women on the air that she was willing to head up the effort.
YL with a twist
Trish's vision of a net went beyond the YL segment of the community to encompass the entire family: children, teens, and yes, men as well. She wants to make it a place of meaningful discussion with and for the entire family.
"More than just a YL Net, I'd like to see this as a family-oriented net.  A place where our ladies can join in and share with each other as well as the whole amateur radio family. And yes, men are welcome!"
Trish is busy planning topics for discussion, with a few light subjects thrown in. Expect to hear about everything from how not to get taken advantage of when you take your vehicle in for servicing or repairs to activities that you can do with your kids/grand kids for some meaningful together time.  She revealed several other topics to us but you will have to tune in to find out what they are.
A YL role model
Trish is a great example to her teen daughter, Cheyenne, KD0EXI, and son Austin, KD0GPE, on two counts.  First, if you really want something, work to make it happen and; second, she is helping to create a welcoming and relaxed net that her daughter and son can participate in along with their peers and families.  We expect that the YL Family Net will be a very popular place to gather.
Come and meet the YL who is making it all happen and join us every Friday evening at 7:30 p.m. on the 145.340, beginning on May 6th.