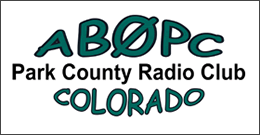 The Park County Radio Club (PCRC) has two public service events coming up in June and is looking for hams to help staff the events.
The first event is the Northfork 50/50 trail race on Saturday June 1st.
The second event is the Bailey Hundo mountain bike race on Saturday June 15th.
The events will involve staffing the start/finish area and 6 aid stations along the course. All communications will take place on the PCRC Bailey 2-meter repeater on 146.895 and will consist of relaying runner/biker times as they pass each aid station and provide any information regarding injuries or other emergencies along the course. These are all-day events. Both of the events take place near Bailey in the Buffalo Creek area.
Detailed information and sign up can be found on the PCRC website at www.ab0pc.org. You can contact Mike (AB0RR) at for more information.