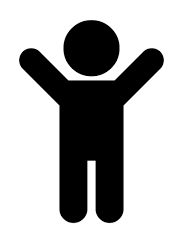 Twice a year the ARRL offers an event designed to promote Amateur Radio to our youth.
Kids Day is designed to give on-the-air experience to young people and hopefully foster interest in getting a license of their own. It is also intended to give older hams a chance to share their station and love for Amateur Radio with their children, grandchildren, local boy- or girl-scout troop, or other youth group.
We will be connecting our IRLP node on the 145.340 repeater to the IRLP Friends Ham Radio Network that day so that kids in the Denver metro area (and beyond, see the coverage map) can talk to kids in other parts of the United States, and potentially the world.  The event starts at noon, local time, and runs until 6:00pm.   If there is no traffic, the connection times out, so be active and get on the air!
The ARRL provides a downloadable, printable certificate that you can print and fill out for your kid participant.  They would also appreciate it if you would drop them a note via the form provided to let them know about your experiences.  ARRL Kids Day web page.