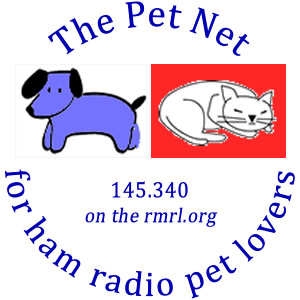 The Pet Net has moved to a new time of 7:30 (19:30) on Thursday evenings. (We used to start at 7:00). We have a lot of fun and interesting discussions about all aspects of pet parenthood.  We want YOU to join us!
Find us on the 145.340 (a negative offset and a tone of 103.5), IRLP node #3350. OR you can connect to us via IRLP (thank you, Friends Ham Radio Network) IRLP: 9618; Echolink: 29618; AllStar: 27408.
The topic for the week is usually posted in advance on our Facebook page. Be sure to visit us and post your suggestions for future topics, or share a link to an interesting article or product.
The Pet Net
Day: Every Thursday
Time: 1930 (7:30 p.m.) Mountain time
Pssst
On Friday evening tune in to the same frequency at the same time for the YL Family Net.  A fun, relaxing family-friendly net where third party check-ins are welcomed and encouraged and we just have fun talking to everyone: women, men, teens, and kids. Fun conversation-starter topics.  The third Friday of the month is trivia night! (We don't keep score, just have fun.)