The RMRL has five repeaters in the 70 centimeters band as follows:
RMRL REPEATER
W0WYX/R
Output: 449.100
Input: 444.100
Location: Special Events Repeater
This repeater is also node #3494 on the Internet Radio Linking Project (IRLP) linked system.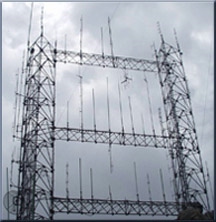 RMRL REPEATER
K1DUN/R
Output: 449.450
Input: 444.450
Location: Squaw Mountain (W of Denver) @ 11,440 ft. MSL
Access: 103.5 Hz CTCSS required/127.3 Hz CTCSS transmitted.
This is the RMRL's other wide-area coverage repeater. The .45 is available for general use at all times.
In an attempt to reduce interference the 449.450 repeater has been configured to receive the 103.5 Hz CTCSS tone and transmit a 127.3 Hz CTCSS tone.
Streaming audio can be heard on the 145.220, 145.340, 146.940, 224.000, and 449.450 repeaters. Click here to listen.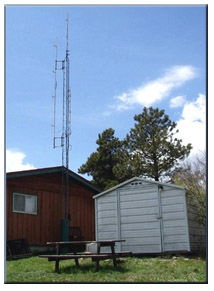 RMRL REPEATER
KI0GO/R
Output: 449.750
Input: 444.750
Location: Guy Hill (NW of Golden) @ 8,300 ft. MSL
Access: Digital
In your codeplug, create a contact and RX group for talk group 310894.
Create a new channel in your codeplug for accessing to the 310894 talk group via RMRL's DMR repeater.
Set the new channel parameters to 449.750 on RX, 444.750 on TX, time slot = 2, color code = 1, and RX group is the one you created that includes the 310894 contact.
Set other channel parameters as desired.
This machine provides very good HT coverage in the Denver Metro area.  For further details see this QRZ post about this repeater.

RMRL REPEATER
W0WYX/R
Output: 449.825
Input: 444.825
Location: Broomfield @ 6,000 ft. MSL
Access: 103.5 Hz CTCSS required
Status: Undergoing maintenance.  Expected back up soon.
This repeater is linked with the 146.94 repeater from Squaw Mountain and offers coverage along the foothills and into Boulder where the .94 repeater is shadowed.
This repeater was installed at the request of the Skywarn group to allow access to the 146.940 repeater from the new NWS facility in Boulder.